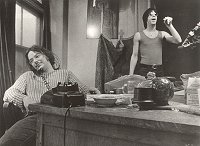 The beginnings of new talent are apparent in The Groove Tube, a diverting, sometimes tasteless and sometimes very funny film concocted from a series of video-taped skits that take off on video and the mass minds it satisfies. It's bawdy and bright and glisters with some very satisfying bits of originality from the obvious intelligence and burgeoning talents of Ken Shapiro, the 31-year-old director, producer, star, and co-author with Lane Sarasohn. A juvenile veteran of early television and a Bard College graduate, Shapiro started his video-taped entertainments in the mid-sixties and, with Sarasohn, his roommate at Bard, tested his talents before college audiences and off-off-Broadway as well, and two years ago began reshooting in 35mm in excellent color.
The resulting 75-minute revue is for the young in heart and broad of mind. Shapiro has a very nice gift for taking a squint at television's triteness and seeing any number of oddball possibilities with a bit of a leer and a lot of laughter. His KoKo the Clown kiddie show, which comes to full blossom when the "big people" are banished from the room; his Kramp TV Kitchen, where gourmet heights are reached by pitting cherries to stuff pitted olives; "The Dealers," an anti-drug documentary that faces the problem of flushing the grass down the loo that's just been flushed; the anchorman who can't weigh anchor; an international sex-game play-offs; the ecology commercial complete with ballad and sludge; the boys in the barroom proving that "When you're out of Butz, you're out of guts"; the Uranus Corp. "working for a better tomorrow" - all these, and a charming finale in midtown Manhattan - are first-rate. Not for prudes, mind you - or pornographers - Shapiro's inspiration is loose, lively, and just a little lecherous.
Shapiro gets some excellent support, chiefly from Richard Belzer, his cohort in the drug racket and in the Urban Report news investigation of shady ladies; Chevy Chase, one of the brighter lights of Lemmings, and many others. There's some lively animation work by Linda Taylor and Pat O'Neill, and Bob Bailin's cinematography is appealing and often inspired. All make The Groove Tube fine for warm-weather watching.


---
Return to Groove Tube | Return to Home Page