'Groove Tube' at Eastside Cinema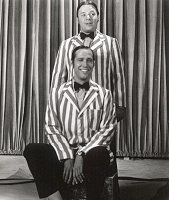 The Groove Tube," at the Eastside Cinema, needs an introduction, with a warning. It was started seven years ago by young Ken Shapiro, a couple of years out of Bard College, assisted by some college pals, at a lower eastside video theater dealing in youthful satire. Its fresh irreverence showed more promise than achievement, but the talent was there.
Now, sharpened by years of college audiences, and others, rewritten and expanded, and also greatly benefited by the permissiveness of 1974, the small video project has been given full-scale production on film. There are outrageous items, one genital oriented, another straight from the toilet humorist, and all of them jabbing that most eminently vulnerable medium, the TV advertisement.
I won't say this is the funniest film you'll see, or that it can please every taste, or many tastes formed more than 30 years ago, but I do say it quite clearly marks the emergence of a comedy group that, given time and opportunity, could brighten, sharpen and broaden American comedy of the next decade or so. It brings together wit, wicked perceptions of human frailty, and a fine, traditional sense of slapstick.
It is hard to say that Ken Shapiro has done it all when he has had so many capable assistants, but since his name leads all the rest as producer, director, co-writer and main star, one has to assume that he's the working genius.
His co-writer is one Lane Sarasohn, his co-stars Richard Belzer, Buzzy Linhart, Chevy Chase and Christine Nazareth. The nameless speaker in a VD lecture, however, deserves special note as a unique performer, consistantly underplaying but riveting one's attention without any effort at all.


---
Return to Groove Tube | Return to Home Page